Happily, I had an opportunity to participate in Saitama Prefectural Fudooka High School Wind Orchestra (FWO) the 50th Annual Regular Concert on 15 and 16 August.
The concert was supposed to be held in May. It was quite fortunate that the concert was safely held. There has been a risk of sudden cancellation all the time until the moment of the concert.
Personally, it was the first entering the concert hall in the half-year even as an audience. I had a public performance after an interval of seven months.
On the other hand, there were so many things during the two-day concert and twice of rehearsal. To be honest, I haven't digest things now.
Anyway, it was the happiest time in this half year with my familiar people! I'm really grateful to everyone!
It would be endless if I start to mention impressive moments:
A 2.5-hour concert with many difficult pieces prepared less than a month
The first day was already satisfying, but the dramatic improvement on the second day!
Fine performance of the first graders who joined the band only a month ago.
More refined pops stage than previous years.
Full-band arrangements by a band member which sounded like professional score!
So bright faces of every single student at the introduction of the graduating student.
Very devoted and supportive alumni etc.
Perhaps, my position was the best to appreciate these aspects as I had a longer time to watch them objectively and knew the process.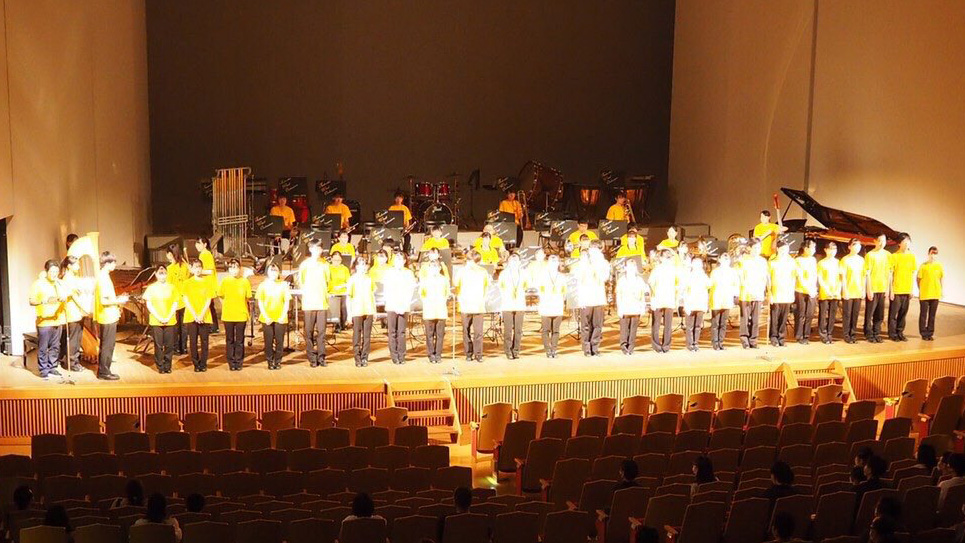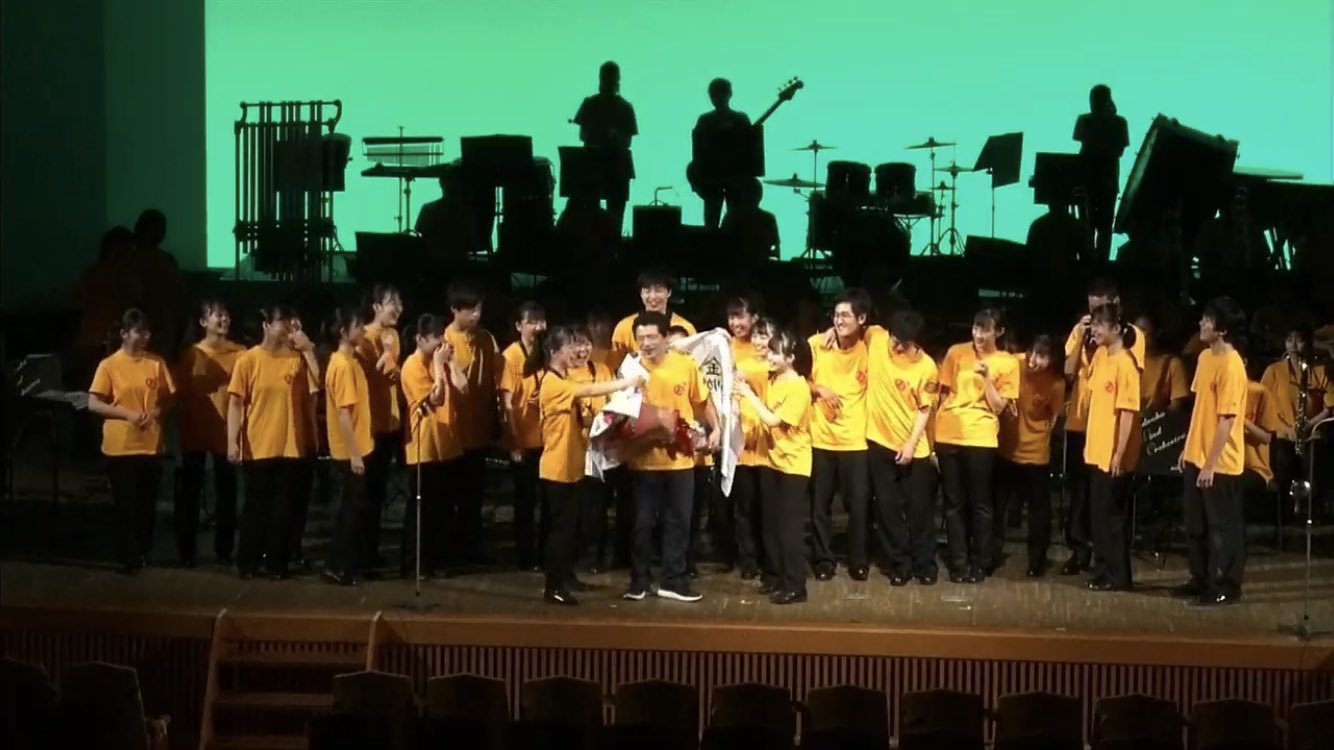 I meet FWO people more than 10 days a year mainly international exchange programme in recent years.
The atmosphere of the band is always "natural", and they have "real powers at the last moment" and capacities to respond to unexpected things which were partly gained through the international programme, probably. Many kinds of band's and members' abilities enable such a nice concert under this hard circumstance.
I guest conducted my short composition titled The Waltzing Moonlight Fragrance. I wrote this piece for a Hong Kong band, and Cantonese folk tunes are used in it.
Mr Kaneko, the conductor and teacher-in-charge of the band, requested me to introduce my piece. I decided to pick this one because I thought music which is related to Asia should be suitable. Also, the band has visited Ipoh, Malaysia where a lot of Cantonese-speaking people live.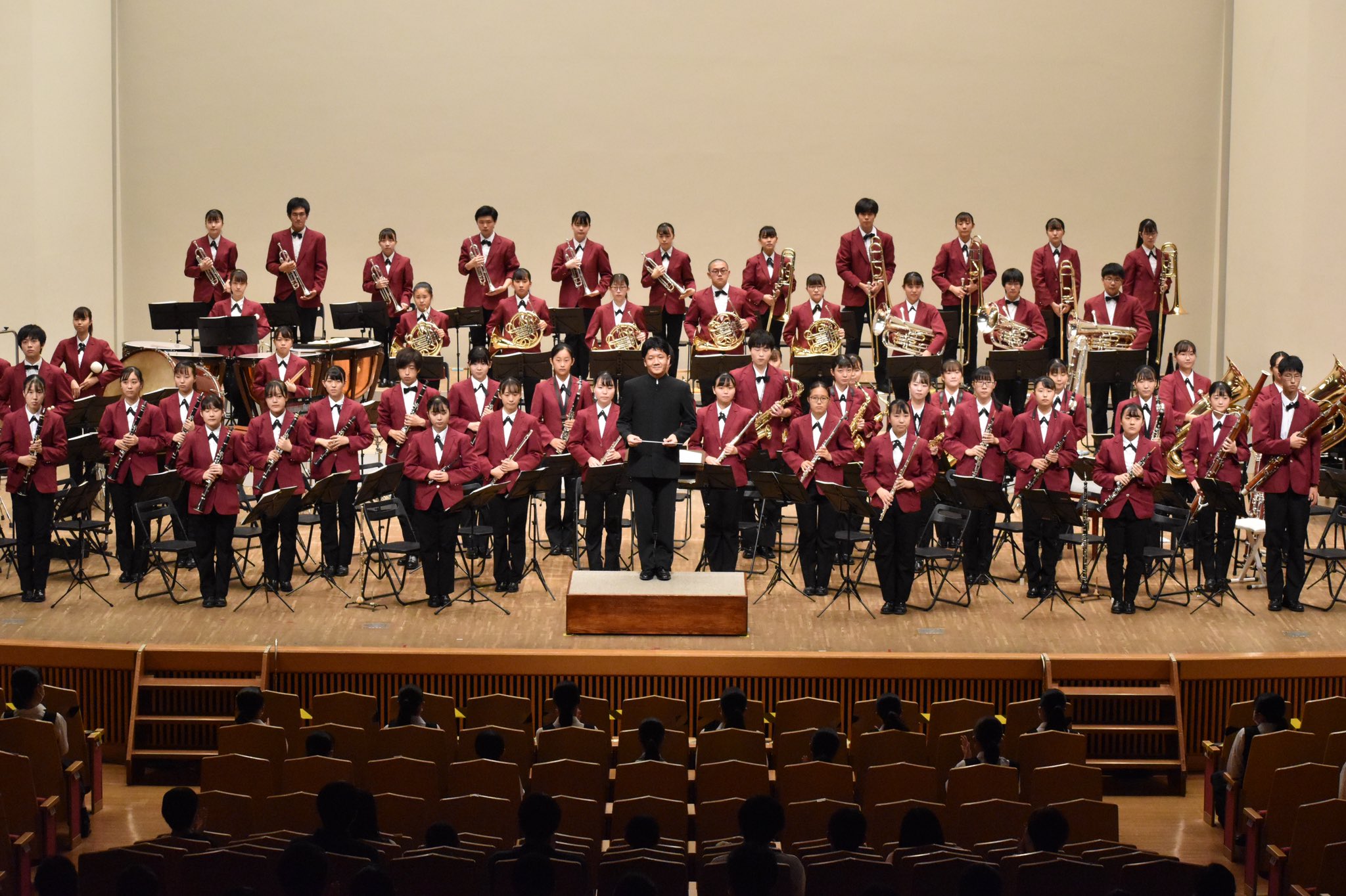 I started to cooperating with current 3rd graders (graduation batch) only two months after their joining the band. They performed with band students from Ipoh, Malaysia, and they needed to communicate in English! We visited Ipoh and Singapore together as well.
I'm very glad to spend and performed together on their extremely important final days.
Mr Kaneko, all the band members and all people concerned needed to have great determination and efforts to have a concert under this situation.
But, they surely got much bigger rewards! It was so precious experience for high school students.
During stay-home time, my sensitivity was rather closed. Contrastingly, these two days were too fruitful for me.
Even though, I was on the stage only for five minutes, it would be one of the most impressive concerts in my life.
An archive of YouTube live streaming is available. Fudooka HS Broadcasting Club members did a great job!
The link above is the video of day 2. Enjoy the fresh and youthful performance of high school students!